TEARS WILL WASH THE DIRTY ANGELS IN THE CONSECRATED HOUSE
OUT LOUD TO MYSELF
BLOND ROSARY
HANDSQUEEZE
SKELTERED WINGS
DON'T HURT ME
INTRUDER
KOUROS
EAT FROM MY PLATE BUT CHEW WITH YOUR MOUTH CLOSED
The BISON is introduced here, as placemat; the MANDALA within the BISON is encircled with a circular PULSE, and serves as PLATE. Inside of the PULSE is OUR LADY, she is featured within her own ruffled MANDORLA, and is also centered within a pointed aureole; the AMA with spiraled wings is introduced, please notice the ascension LADDERS carved within the left wing petal edges, this symbol is situated where a nourishing beverage might be placed; child hand prints 'seal' their surface-awareness. In the upper right is the CROSSHATCH: COGNIZANCE, it orders ideas, and also signifies the larger essence of the café cloth; the abstractions/utensils to the right of the PLATE are extremely stylized characters with multiple meanings.
The wad of gum, with the M/W symbol within it, is pressed 'under the table'.
THREE GRACES
MYTH AND METAPHOR
LADY OF BITCH WATERS
AWAKE HAS CORNERS
Awake has corners. Four corners. Four cardinal points. Consciousness has its limits.
CATS FOR HANDS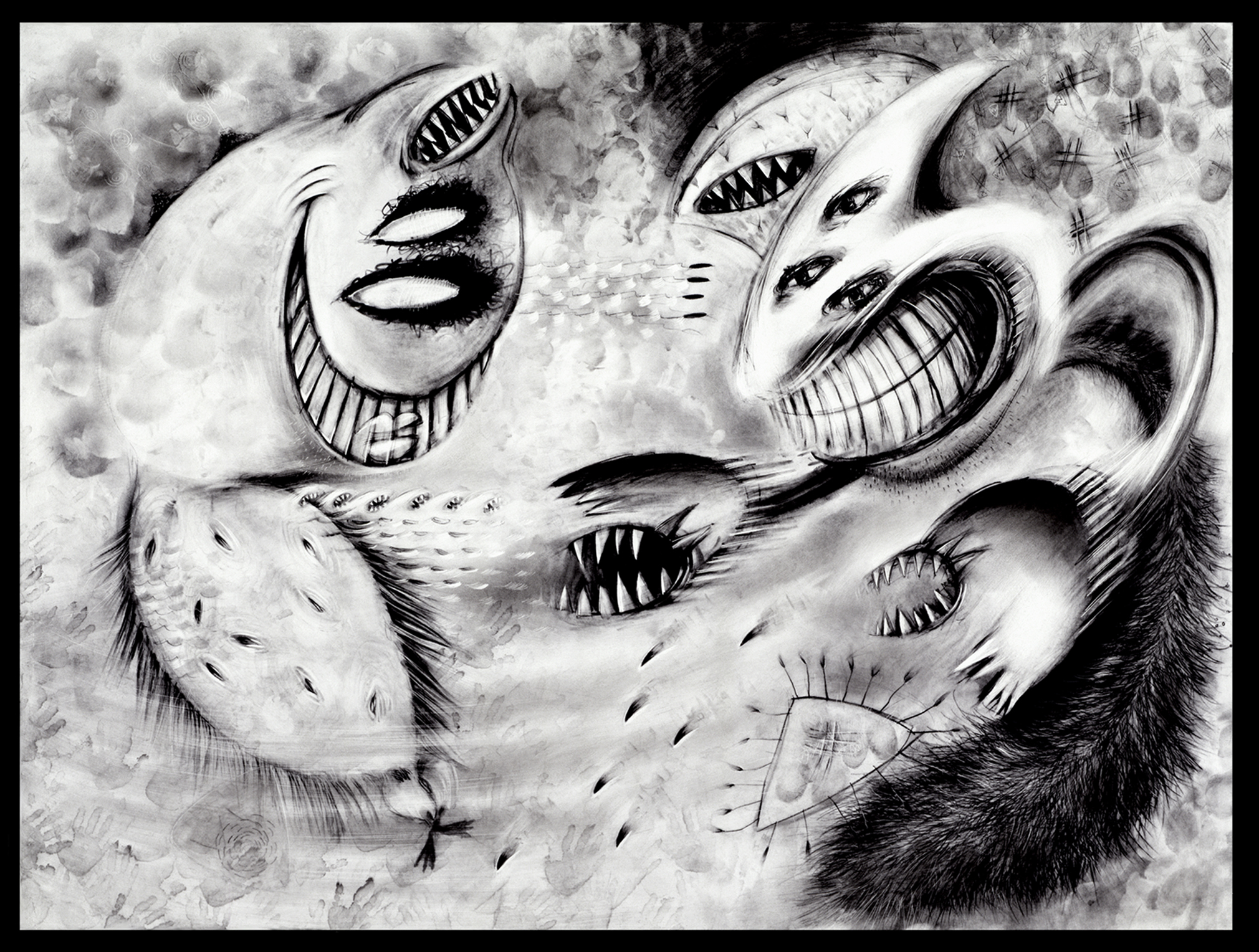 SACRED TEXT
TRIAD
DYSPLASIA
This piece incorporates some of the early symbols still used extensively throughout my work.
As my work has progressed over years, these symbols stay distinct, and, as with any basic characters within a language, they also take on more expanded meaning(s) when coupled with other characters, and, over time, an extensive picture-vocabulary has evolved. This picture-language usage is an optimal way to visualize ideas, as it allows for a more intuitive interpretation of message.
Both Schopenhauer and Goethe shared the opinion that visual representations yielded more knowledge than did concepts.
TOO MUCH TO REMEMBER TOO MUCH TO FORGET
A tic-tac-toe grid is used as an armament, a structure, to contextualize psychic content. Potentialities, ambitions, power, intellection, humility and memory are shifting coordinates on the graph of actualized truths, the end game of Xs and Os being self-realization.
SHE DANCE
GRAMMA
KINGS
ESCAPE THE VASE
AWASH
BATTLE 1
INSIDE HER SCREAMS
EDIGI
A figurative expressionistic charcoal drawing of a reclining nude, reminiscent of Edouard Manet's "Olympia", depicting not objective reality but rather a more expressive interpretation of her unapproachability.
GARDEN GROW
PIROUETTE
ABOUT